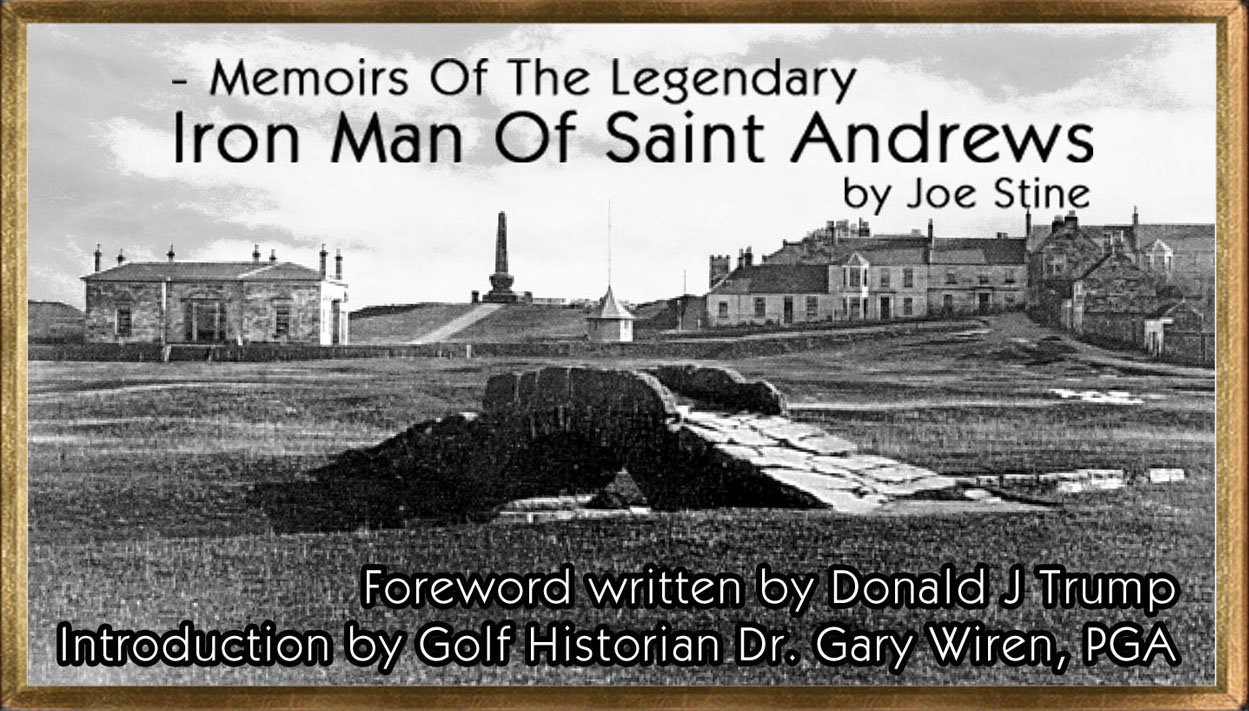 James Achenbach, Associate Editor, Golfweek said; "There is something spiritual about this book."
A Literary Treasure 200 Years In The Making

[Watch in Full Screen Mode]
Although much of the intricate details of golf's history are said to be lost forever, the Memoirs of the Legendary Iron Man of Saint Andrews hereby stands as proof that sometimes you can still find traces of that history hidden amongst the handwritten stories told within the old family Bibles of the Scottish people. And, when you do come across these ancient glimpses of that history whilst reading the Iron Man's Memoirs, it is important to savor the moment. For if you do, you will find yourself in the presence of something even more Scottish than bagpipes or kilts, In a sense you will be looking into the loving eyes of Scotland itself, and listening to the very beat of its Scottish heart.

Excerpt: from the book "Foreword" written by consummate golfer, President, Donald J. Trump - 2011
In 2011, consummate golfer, Donald J. Trump said the Iron Man of St. Andrews, "reads very much like an historical analysis of the birthplace of golf, yet most academics will agree it's more than that...much more. This extraordinary historical novel reveals much about life and golf in early 19th century St Andrews, Scotland, and historically speaking; you can rest assured that more of it is true than you will ever know"
Click here for a larger view of the book's Foreword.

Available at Amazon.com
This historical novel presents a revealing look into the real history of 1800s Saint Andrews Scotland and its golfers. Based on real events, the 93,000-word memoirs entail a hauntingly in-depth account of the Iron Man's 89 well-spent years of life and golf within the enchanted royal burgh of his birth, beginning mid-June of 1827, when at age six, he and his six year-old best chum, wee Tom Morris met "The Wizard of the North," Sir Walter Scott beneath St. Rules Tower in the graveyard amongst the ruins of St. Andrews Cathedral.

Table of Contents - 31 Chapters, 254 Pages
Rosmairi Mackenzie & The Land O' Leal
Learn'n Golf - The Game O' Life (Old Course 1831)
The Robertsons (Peter, Davie & Allan)
Hugh Philp (The Stradivari of Clubmakers)
Ball Mak'n ("Balls are whaur the money is.")
The Art O' Club Mak'n
The Apprentice, 1834 Blacksmith'n, "a vocation wi' a future"
Captain Mac 1846, Niver beat the landlord at golf
The Ol' Union Parlor, Tales of Chinese pirates & opium wars
Rosmairi's Gaelic Home, 1847 (Coontie O' Ayrshire)
Two Hole Course, Uncle Murdoch's intro to golf
Muireall McEwan's 100th Birthday
Turn'n O' The Caber, (Anja)
If It Isna Scotch, Tis Nae Whusky!
Eat'n O' The Haggis (haggis eat'n weary-whiddle)
'The Day Efter'
Master Cleekmaker
Wi' Birth Comes Death, 1848 (Winnie's Birth)
Saint Andrews, 1852
The Iron Man Visits Prestwick, 1854
Death O' Angus Mackenzie
Test'n Cleeks Wi' Tom Morris
The New Clubhouse at Saint Andrews, 1854
A Wager Made
The Golf Match (the Old Course in 1854)
Home Hole
The Golden Years
Epilogue
---